SPACE PIGS, BOUNCY CRATERS AND CARD GATHERING FOR 2-4 PLAYERS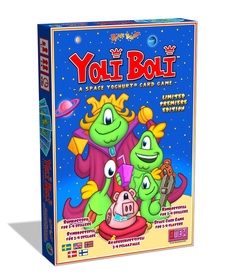 Yoli Boli™ is loaded with bouncy craters and hungry space pigs. Count to three, point and guess. You need cunning, memory and skill to win over your space friends in this exciting card game.

The players will be counting to three aloud. By pointing and guessing on cards, the players will win cards. The goal of the game is to gather four Crew Cards of the same kind to win: Captains, Lookouts, Engineers or Spaceships.

Activating Special Cards like Bouncy Craters, Space Yoghurt and FiFi makes the game wacky and fast paced.

---
BOUNCY CRATERS, VORTEXES AND SPACE YOGHURTING FOR 2-4 PLAYERS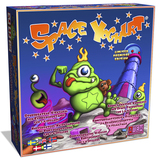 Space Yoghurt® is a competitive game for two to four space adventurers. By rolling dice and making use of the moon's strategic places, the player maneuvers his or her crew into the spaceship's cockpit and strives to win the cosmic vacation. Will you be the one who receives the Golden Ticket from the Galactic Empress Yolibolibana III?

---